Don't throw away a problematic controller... send it to us! Irritrol's team of skilled technicians can resolve your controller problem before your site suffers any damage. Simply call us direct, or call your Irritrol distributor to arrange for the help you need immediately.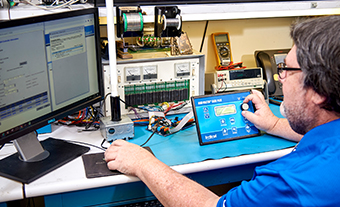 With Irritrol's Controller Repair Advantage, you'll get
• Immediate repair or replacement of unit within 48 to 72 hours.
• Low, fixed prices with no surprise.
• Quality repairs by the original manufacturer.
• Product improvements/updates built into repairs.
• Six-month warranty on replacements parts.
Immediate Response to Your Needs
We know that time is of the essence when it comes to protecting your site condition, and your reputation.
For an immediate response to your immediate controller need, contact Irritrol Controller Repair Services.
Phone Numbers & Hours of Operation:
Controller Repair Services:
1-800-634-8873
M-F from 6:00am to 2:30pm, Pacific Time
Customer Support Line:
1-800-634-8873 (TURF)
M-F from 7:30am to 4:00pm, Pacific Time
Send Controller Repairs to:
Irritrol
5825 Jasmine Street
Riverside, CA 92504
Attn: Controller Repair
Please include the following information:
1. Your name/Company name.
2. Address you want the unit return shipped to.
3. Contact phone number.
4. Short description of the problem.